Dear participants,
The organizing Committee asks you to confirm the necessity of accommodation until June 01, 2021 to the address of the conference Organizing Committee plantgen2021@bionet.nsc.ru  (message subject: Reservation of Accommodation) and a copy to Tatyana V. Karamysheva kary@bionet.nsc.ru
Hotel Zolotaya Dolina (10 Ilyicha str.):
Standard single room – 1950 rubles per room
Standard double with one bed – 2800 rubles per room.
Standard double with two beds – 2800 rubles per room.
Semi-suite double with one wide bed – 3680 rubles per room
Semi-suite double with two beds – 3680 rubles per room
Suite double with one wide bed (can accommodate one or two people) – 5920 rubles per room
Triple standard – 1800 rubles per room (600 rubles per person)
These prices are valid as of February 1, 2021. The Organizing Committee draws your attention to the fact that it is better to book accommodation through the organizing Committee, since there are discounts for foreign citizens who arrive at the invitation to participate in the planned event. In case of their change, the organizing Committee is not responsible. Breakfast is not included in these prices, and it costs 480 rubles. The hotel phone number is 8(383)330-08-83; Fax, 8(383) 330-19-16; official website, http://www.gold-valley.ru/. If you pay in full for a double room, it is completely yours. However, if there is a high demand for places in double rooms, such option is not permitted. In the event of any changes, please inform us no later than 14 working days before the date of arrival.
Park Wood Hotel, Akademgorodok (6/2 Arbuzova str.):
PlantGen2019 participants are requested to book accommodations at Park Wood Hotel and SibHotel by themselves.
You can book a room in a new, comfortable hotel Park Wood Akademgorodok, located at 6/2 Arbuzova str., Novosibirsk, Russia, 630117. Booking Department: +7 (383)209-26-26, tel/Fax: +7(383)2092626, bron@parkwoodhotel.ru.  For additional information about the Park Wood Akademgorodok Hotel, see hotel's website — http://parkwoodhotel.ru/en/
The hotel has 60 rooms, 84 places to stay, 6 floors, including:
36 Single rooms – 3990 rubles/day;
24 Double rooms – for single accommodation – 4500 rubles/day; for double accommodation –5200 rubles / day (2600 rubles/day-place);
Suite (two bathrooms in the room) – 7500 rubles/day-single; 8200 rubles /day-double;
Benefits of staying at the Park Wood hotel:
Park Wood hotel gives 5% discount on accommodation and free transfer to the conference once a day for every PlantGen2021 participants! Details of the Special Offer are on the link: http://parkwoodhotel.ru/en/special-offers/conferenci/
Book a room on http://parkwoodhotel.ru/book/ with promo-code "CONFERENCE" to have the discount and free conference transfer. Any document confirming participation in the conference is need to be presented at check in.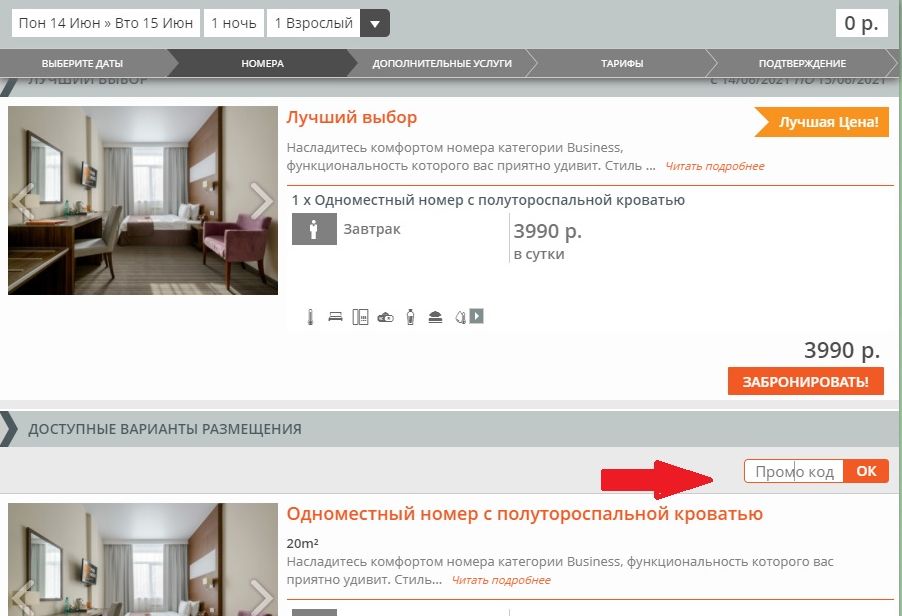 A special promo Code CONFERENCE created for conference participants.
You can get up to 5% discount. Free transportation service to the conference venue will be provided once a day.
It takes you 10 minutes to get to all Scientific Research Institutes of Siberian Branch of Russian Academy of Sciences and Novosibirsk State University.
Free Wi-Fi is accessible in each room.
Buffet Breakfast from 7: 00 to 11: 00 is included in the room rate.
In single rooms: a safe and a bottle of water on the table-free of charge.
Mini bar in the room – price list is on the table.
The hotel has a laundry – paid; an iron and ironing board – brought to the room on request – free of charge.
Hotel Arbuzova (10 Arbuzova str.):
Single room – 2900 rubles/night;
Double room with two double beds – 3400 rubles/day (for single accommodation – 2900 rubles/day);
Double room with one bed – 3400 rubles/day.
Address: 10 Arbuzova str., Novosibirsk, Novosibirsk region, Russia, 630117
Phone: 8 (383) 214-72-97, http://arbuzova10.ru/ru/,
For conference participants, it is possible to book a room in the Sibhotel at a reduced rate. Please contact Vadim Gorbenko etovse@mail.ru, +7-913-912-72-97.